Hidy ho, crafty peeps!
GUESS WHAT?
(Wait, I know how bad y'all are at guessing. It was rhetorical anyway.)
You're looking at the brandiest newest, shiny, squeaky design team member for House Mouse and Friends!
WOOOOOOT!
Now I have the perfect
excuse
REASON to include House Mouse images on ALL my cards and paper crafting.
I am so excited, that I made a couple of animated badges in honor of this auspicious happening.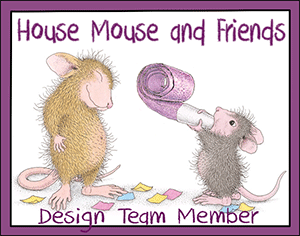 Whatcha think?
The ladies at House Mouse and Friends have NO IDEA about my status as a Digital Diva in Photoshop...but they're about to find out! I can't WAIT to make all sorts of little animated badges!!!
Ok, that's all I wanted to post right now.
Thank you to the super talented (and intelligent) people at House Mouse and Friends for choosing me to be on their design team.
Dropping hints paid off.
Hee hee hee.